Organizational Contact: 
Our Board (2022)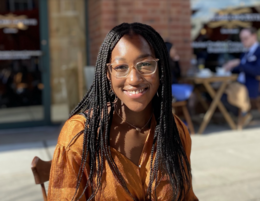 President: Chisom Ofomata
Chisom is a freshman in Jonathan Edwards College and a prospective Molecular, Cellular, and Developmental Biology (MCDB) major. She is excited to support Yale's disability community and work with DEFY to make the institution more accessible for current & future students and staff. Outside of DEFY, Chisom is an active member of American Sign Language at Yale (ASLaY) and is passionate about ASL and Deaf culture. She is also a member of the Nigerian Students Association; Science, Technology and Research Program (STARS) I; Black Pre-Health Students at Yale; and Dzana, an Afrobeat dance group. In her free time, she enjoys reading, watching movies, and spending time with her friends and family. Please feel free to reach out to her at chisom.ofomata@yale.edu. 
Vice President & Treasurer: Adérónkẹ́ Adéjare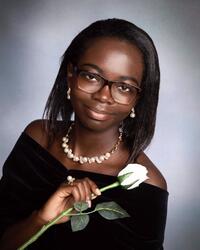 Adérónkẹ́ is a sophomore in Saybrook College and a prospective Computer Science major. She is very excited to support the Yale disability community as a member of the DEFY board and as a Student Accessibility Services Peer Liaison. Outside of disability stuff, Adérónkẹ́ is also part of Kappa Kappa Gamma sorority, Yale Model African Union, and is involved in several performing arts and STEM extracurriculars. You can reach her at aderonke.adejare@yale.edu.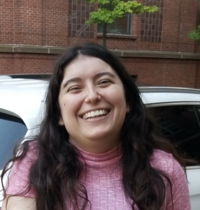 Archivist: Julia Miranda
Julia (they/he/she) is a junior Anthropology major from Argentina. Their research focuses on trans-oceanic Indigenous storytelling as a mode of resistance to state violence. He is an Office of Intenational Students & Scholars (OISS) Peer Liaison and is involved in builing community storytelling and healing spaces for trans and queer people of color at Yale. In her spare time, Julia loves learning about tea-making and, joints allowing, perching mysteriously on rooftops across New Haven.
Communications & Events Director: Martine Cruz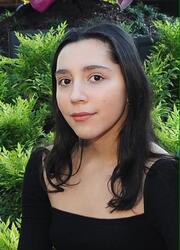 Martine is a junior in Jonathan Edwards College studying Global Affairs at Yale's Jackson Institute. She is passionate about healthcare equiy, sustainable development, and contemporary art. Martine enjoys spending her time participating in programming at the AfAm House and the Tsai Center. She cares deeply about making Yale an accessible and supportive environment, especially for those living with disabilities. Contact her at martine.cruz@yale.edu
Community & Affinity Director: Alexis Sye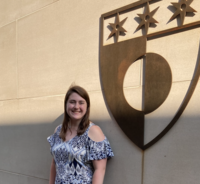 Alexis is a freshman in Pauli Murray College and a prospective double major in History of Science, Medicine and PublicHealth and Sociology. Alexis is also a member of American Sign Language at Yale (ASLaY). She hopes to begin working in a research lab soon. Aside from her passion for disability advocacy, accessibility, and healthcare reform, Alexis loves coffee, baking (especially things that contain yeast!), and reading dystopian fiction. Contact her at alexis.sye@yale.edu. 
Advocacy Lead: Matty Norris 
Bio & photo forthcoming. 
Advocacy Lead: Gabriella Thompson
Bio & photo forthcoming. 
Peer Mentor Program Coordinator: Josie Steuer Ingall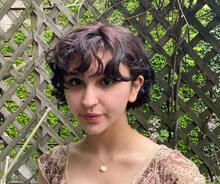 Josie is a sophomore in Timothy Dwight College and an Urban Studies major and Education Studies program scholar. Her academic and advocacy work primarily pertains to the history of and ongoing battle for desegregation & integration of urban public school systems, and she has a particular interest in intersectional disability education and inclusion. She is also a member of the editorial board of the Yale Herald and an organizer with the Yale Endowment Justice Coalition. She can be reached at josephine.steueringall@yale.edu  and would be extremely happy to talk to you about community organizing, Edna St. Vincent Millay, or her favorite restaurants and places to see live music in New Haven.
Advisor: Joaquín M. Lara Midkiff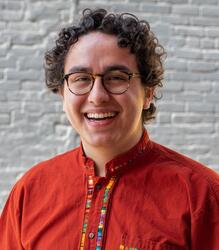 Joaquín is a junior majoring in Evolutionary Biology and Latin American History. In addition to his work with DEFY, he serves as Chair of the Native & Indigenous Student Association at Yale and Community Policy Director on the Yale College Council. He is founding editor of the Yale Review of Disability Experience, an editor for the Yale Review of International Studies, and an Associate Editor for the Yale State and Local Policy Review. And a researcher at the Near lab and a fellow at the MacMillan Center. He is a former DEFY President. Please reach out to him at joaquin.laramidkiff@yale.edu.
 
Kooky Aunt: Mafalda von Alvensleben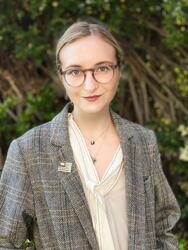 Mafalda is a senior majoring in Cognitive Science and simultaneously pursuing an MPH at the Yale School of Public Health. She works as the production manager of the Yale Scientific Magazine, is project manager for STEAM (trying to put the art back into STEM!), and writes and recites nonsensical poetry with her spoken word group Teeth. She served as the President of DEFY for the 2020-2021 academic year. If you have any questions, please contact her at mafalda.vonalvensleben@yale.edu.
Current Initiatives  
General advocacy for improvement of living, learning, and working conditions for community members with disabilities 
Working with administration on large structural changes
Meeting with Yale faculty and staff about specific issues, including but not limited to:

Yale Dinning
Yale Health
Yale Mental Health and Counseling  
Establishing a cultural center for students with disabilities, part of our

 larger goal of gaining recognition for disability as a sociocultural identity, with its own culture, heritage, and shared experience. 
Tentatively, the Persons with Disabilities Cultural Center (PDCC)
With Academic Strategies, running Disability Peer Mentor Program
Currently in its fifth year
Distinct from, and older than, the SAS PL program 
Administering the Yale Review of Disability Experience 
Academic journal dedicated to the expression of experiences from the disability community
For more information, see here
History

In 2016, Benjamin Nadolsky '18, Matthew Smith '18, and Rose Bender '19 founded Disability Empowerment for Yale (DEFY) after noting the absence of a voice on Yale's campus for students with disabilities. As disabled students are often forgotten and alienated, DEFY seeks to empower and educate in order to create a more equitable environment on this campus. 
Even though DEFY is a relatively young organization, we have already advocated for and achieved the creation of an ASL language program; established the first new Peer Liaison program in more than a decade in partnership with Student Accessibility Services; created a Disability Peer Mentor Program to support undergraduate, graduate and professional students and achieved institutional recognition through the Academic Strategies Program at the Poorvu Center; and 
successfully urged Yale to adopt and enforce a new accessible website and course materials policy. DEFY has also worked with administration on improving transit opportunities for disabled students by expanding the Special Services Van fleet, advocated for a more allergy-friendly Yale Dining,  created the
Disability @ Yale
 Survival Guide
, coordinated awareness campaigns through social media, flyering, and campus, local, and national press,  and hosted several speakers at all-campus events.
Pictured, fr
om left to right: 
Back row: Brennan Carman '20, Joshua Slocum '18
Front row: Emma Hastings '18, Rose Bender '19, Benjamin Nadolsky '18, Jack Lattimore '20
Past Leadership
2021
President: Joaquín Lara Midkiff
Vice President: Josie Steuer Ingall
Secretary of Events: Martine Cruz
Treasurer: Adérónkẹ́ Adéjare
Senior Advisor: Mafalda von Alvensleben
2020
President: Mafalda von Alvensleben
Vice President: Joaquín Lara Midkiff
Secretary of Events: Josie Steuer Ingall
Treasurer: Ken Stier
Senior Advisor: Paige Lawrence
2019
President and Peer Mentor Program Coordinator: Paige Lawrence
Vice President: Mafalda von Alvensleben
Secretary of Events: Arya Singh
Treasurer: Ken Stier
Communications Director: Joaquín Lara Midkiff
Senior Advisor: Brennan Carman 
2018
President: Brennan Carman
Vice President & Secretary of Communications: Rose Bender
Treasurer & Secretary of Events: Jack Lattimore
2017 
President: Ben Nadolsky
Vice President & Treasurer: Matt Smith
Secretary of Membership and Peer Mentor Program Coordinator: Rose Bender
Secretary of Events: Joshua Slocum
2016
President: Ben Nadolsky
Vice President & Treasurer: Matt Smith
Secretary of Membership: Rose Bender
Secretary of Communications: Jack Lattimore
Secretary of Events: Joshua Slocum